We are delighted and super proud to announce that Kyan is now B Corp certified, with an impact score of 89.5. We thought we'd take this opportunity to talk a bit about what B Corp means to us, why we did it and how the journey was for us, and also to share some lessons we learned along the way.
What is B Corp?
We first became aware of B Corp when it came to the UK in 2015, and back then we identified it as a different type of certification – something apart from the regular box ticking exercises that business certifications normally seem to be. Rather, it was a complete sustainable business development framework based on values that chimed with our own; to do right by our team and customers, to be involved in the local community, to look after the environment, and to be a successful, profitable business. Or 'people, planet, profit' as B Corp summarise it in the famous 'triple bottom line'.
It also seemed like a massive task—a huge mountain to climb—and consequently we parked it in the "too difficult/too busy" box. With hindsight, that was a misstep and I wish we had taken the plunge back then.
Seize the moment
The fact is there is no better time to start the journey towards becoming a more sustainable business than right now. Following the same notion that the best time to plant a tree was fifteen years ago, and the second best time is now, there is no reason to put off becoming a B Corp, because you can do it at your own pace.
For us, becoming a B Corp has been a long journey. Overall, it has taken around two years, but that was largely by design. True, there is a long waiting time to get certified at the moment due to the backlog caused by the sheer number of companies currently in the queue. But also we strongly believed that we would get a better result by taking our time.
First, we spoke to our B Corp friends. Ryan O'Keefe and the team at Jago were really helpful in getting us started.
By following a longer timeline we were able to work the framework into our whole business ethos. Working from the inside out we first looked to engage the team and get all of our stakeholders on board before engaging with our suppliers, the local community, and eventually our customers as well. In essence, we are communicating to everyone involved in our business why we were going on the B Corp journey and what it means to us.
We followed the classic route for stakeholder engagement when embedding B Corp into the heart of company culture here at Kyan. First get buy-in and appoint a champion at the highest decision making level possible, then engage the team on the journey and importance. Once embedded you can then start looking outwards to your suppliers and clients.
What has B Corp ever done for us?
So what difference has becoming a B Corp made to Kyan? This is hard to measure, because the process is built around incremental improvements over time, but I'll try to list some of the highlights here.
Governance
B Corp needs engagement from all parts of the business, but you really do need a champion at the upper level of governance to drive it forward or at least be on side to push through some of the more fundamental aspects, not least incorporating upholding the B Corp ethos into your written Articles of Association.
Over the period we were going though our verification it was agreed by the board that sustainability needed such a leader at Kyan, and so I was honoured to take on the title of Chief Sustainability Officer, or CSO. This is something that is quite unusual for a business of 50 or so people, but we felt it was important enough of an issue to get recognition at c-suite level.
Workers
For a service based company like ours, looking after our team has always been top of the agenda. We already offered above average levels of pay, holiday and benefits, but B Corp encouraged us to take this even further and go the extra mile. Consequently, we offer enhanced benefits such as free healthcare and dental plans, as well as increased flexibility in terms of hours and work location.
Environment
We've really taken control of our carbon footprint. We've been measuring it for a few years now, but the goal-setting encouraged by B Corp has meant that we take it much more seriously and measure it more accurately. We use Green Element's 'Compare Your Footprint' calculator, an action which has subsequently allowed us to set goals around accounting for our entire historic carbon since 2003 and, looking forward, to set science-based targets for becoming a carbon Net Zero organisation.
Community
We have also started to properly measure the make-up of our team, to measure our diversity in terms of ethnicity, privilege, neuro-diversity and gender, and to prioritise working on this to become the most diverse and inclusive environment we can be. We base our drive for diversity not only on our core values, but on the understanding that the more diverse we are as a team, the better decisions we will make – as a social unit and as a creative company.
As part of this drive to prove ourselves to be an equitable company, we calculated our gender pay gap and came out with a result of parity in pay (0.3% in favour of female workers).
The process also encouraged us to formalise something we have been meaning to do for a long time and set up a proper staff volunteer program. We have always offered pro-bono and preferential rates for charities and good causes, and supported our team's individual volunteering efforts. But this year we put in place a paid volunteering program where staff members can take time from their work schedule to join our team volunteer days, or to volunteer for a good cause of their choice.
Customers
B Corp encouraged us to look closer at our rates of customer satisfaction and how we communicate success in this area, internally and externally. But really, the benefits of becoming a B Corp and our engagement with our customers starts now. By going through the B Corp process we now feel vindicated and informed enough to engage with our customers on matters of environment and social matters, and we're looking forward to engaging with our clients on this basis and to helping them become more sustainable in their business operations.
Fitter, stronger, more transparent
If anyone asks what the most time-consuming part of becoming certified is, I always say that it's the amount of policy writing required. At Kyan, we always thought of ourselves as a light touch, low paperwork organisation, but becoming a B Corp requires a rethink, and our handbook is now in a much, much better place. I now see the value in having a policy for pretty much every aspect of our business and its operations. It has made us fitter and stronger as a business and ready for the most onerous of procurement departments and processes.
Spread the word
One of the key tenets of B Corp is to celebrate and communicate our progress and successes in becoming a more sustainable business. One of the most visible examples of this is the production of an annual Impact Report, which we produced for the first time in 2021. We have already had the report referenced as a touch point by clients, prospects and prospective team members as a reason they got in touch. It's a great way of communicating your ethics and successes to the outside world, as is the B Corp programme itself.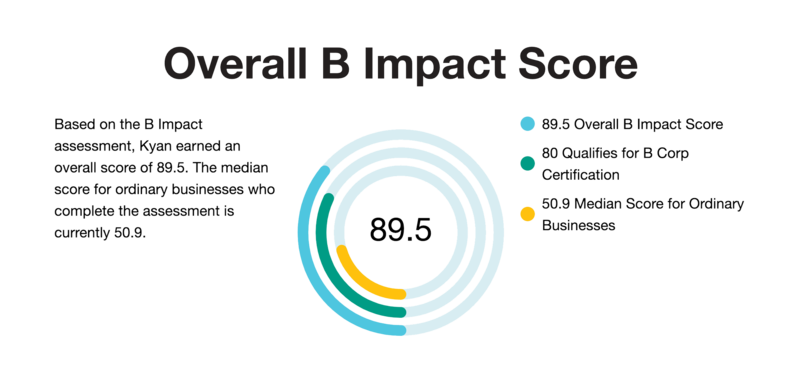 Overall, becoming a B Corp has made us look at our purpose, our ethics, our operations, our policies … in fact, all aspects of our business, top to tail. By going through the process we are a fitter, more rigorous, more intentional business, and if you choose B Corp for your development framework you could be too.
B Corp — better together
If you'd like to know more about becoming B Corp certified or just want to hear a bit more about our journey, then please don't hesitate to connect with me and we can have a chat about it. It's part of my role as CSO and my duty as a B Corp member to advise and offer help to other companies interested in the movement, and I'd love to hear about your story and why B Corp could be right for you and your company.
Connect with Gavin | Download our Impact Report
We are Kyan, a technology agency powered by people.