Fourteen billion years ago, there was a bang, a big one. Sometime later, humans arrived – fleshy, carbon-based electrical beings. While our evolutionary journey fascinates me, much of it remains a mystery. And it's for that reason that I believe the human body and mind is one of the most incredible creations on this fascinating planet.
As such, we must look after ourselves. In work, in play and life. But work especially. After all, it's where we spend the vast majority of our collective lives. Whether designing, engineering, building or making, it can be easy to get a little lost in the daily throws of gainful employment. At Kyan, we know this all too well, and that's why wellbeing has been core to our culture for some time.
We've done Wellbeing Weeks before, but in recent years, with a newly formed focus on how and where we work, we have decided to pull out all the stops, with 2023 being no exception.
For us, a wellbeing focus isn't a one-hit-wonder or a box-ticking exercise. The idea is to introduce our team to new experiences and, ideally, experiences that stick and become habits. Joyful experiences that refresh and invigorate, and most importantly, improve wellbeing.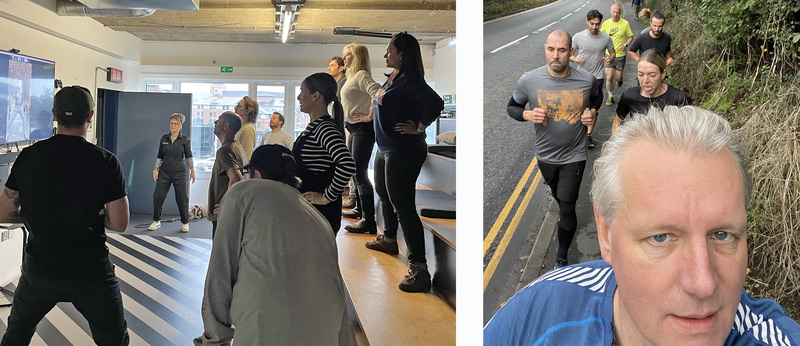 Here's a lowdown of some of the super fun we had for Wellbeing Week 2023:
Sun Salutation with Piers
We kickstarted the week with a team yoga session and positive affirmation over Zoom. Remote yoga works surprisingly well.
Weeklong Water Challenge
A collective effort to get into habitual hydration, ensuring we stay on top of our fluids with timely nudges and notifications via Slack.
Helen's Creativity Morning
An opportunity to get the creative juices flowing and enjoy some lighthearted learning and laughter through an online art session.
'Feeling Good' Book Sharing Session
A gathering of literal minds to share uplifting and inspiring books that help us to feel good, work better and be better.
Qi Gong with Mark Shayler
A session with 'the punk of peace'. This was especially fun, and it was great to see the team get their gong on – in person and via Zoom.
Talking Mental Health with Oakleaf
We were joined by Jen Clay to discuss mental health and the amazing work of Oakleaf, a charity local to us in Guildford that supports the community's mental health.
Run to the Pub + Healthy Lunch
Many of us donned our running (and walking) shoes for a zip around Guildford, before settling into a cosy and healthy lunch at old favourite, The King's Head.
Smoothie Pop-up Bar & Homemade Granola
Who doesn't love a smoothie? This was a great pick-me-up as we approached the end of the week. Also a nice way to pause and step away from our work.
Vitality Presentation and Q&A Session
Vitality is part of our benefits package – a brilliant service and something we truly believe in. It's also an ever-changing product, and everyone's needs are different. This session helped with just that.
Maeve's Play More Work Less
An improv workshop from Maeve Ryan helped us to feel more confident in the moment and trust in ourselves. Wordplay, dance, and spontaneous expression.
Piers' Wellbeing Hacks
I also offered several quickfire wellbeing hacks throughout the week, including breathing exercises and even a way to invigorate your eyes with eye yoga. Look up, look down…you get it.
Wellbeing Week 2023 was a blast, and if you're a business owner or you're part of an agency or organisation, I'd thoroughly recommend trying something or anything from the list above. Not just once, but as a habit that you can practice every week.
We're not afraid to say that hard work is the very thread and fabric of Kyan. But we try our hardest to balance that with a community that rest just as well as they work. And to me, that's what Kyan has always been about – feeling your best and doing your best.
Previously from Piers:
A bonus benefit of B Corp: Building a community
The Great Gong Wall of Kyan and other experiments in wellness
'No one said it was gonna be easy' – adventures in hybrid working